[The scene fades into a shot of a locker room door. As we move in closer, we notice that the sign on the door reads "'Sensational' Steven Shane". Suddenly, a stagehand busts onto the scene and into the door. He walks in and shouts throughout the room.]

SH: "Hey Steve! Dan and Anarky sent me over here to make sure everything was alright for your match. They said they hadn't heard from you all week."

[The stagehand continues to look around, but finds no one. Finally, he looks down and happens to come across a note of some sort. He reads it and then suddenly drops it.]

SH: "****."

[The stagehand leaves the shot, but the camera focuses in quickly on the note that he read and dropped. We can then make out what it says… ]

"Dan-

Hope you and your new buddy are enjoying the ride more than I am. I look forward to seeing what you guys can do together from the comforts of my own living room. Tell Z I'm sorry for not making the match this week…

-Triple S"

[FADE TO BLACK……Then……]

[CUE UP: "Imperial March" - Rage Against the Machine. A video montage plays, featuring smoke-wreathed images of various wrestlers, some of them leaving blurred trails as they move.
CUT TO: Beast nailing the Absolution on Adam Benjamin.
CUT TO: Karl Brown coming off the ropes with a Quebrada.
CUT TO: Steven Shane standing victorious in the ring.
CUT TO: JA delivering the Karelin Driver to Ron Artest
CUT TO: Adam Benjamin delivering a Shining Wizard to Karl Brown.
CUT TO: Joey Melton, mugging for the crowd.
CUT TO: An unhappy IrishRed stomping Wong-Pei.
CUT TO: Lindsay Troy dropkicking Beast.
CUT TO: JA and Sebastian Dodd locking up in the middle of the ring.
CUT TO: Troy Windham, mugging with the Entourage.
CUT TO: Dan Ryan sitting sedately in a chair, staring into the camera.
CUT TO: With a clash of metal, a logo slams across the screen, its edges flickering.]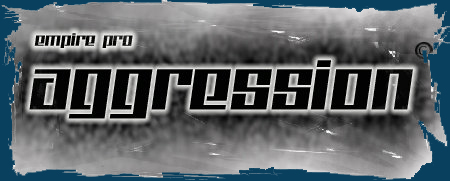 [Pyro erupts around the stage and the ring itself as a wide angle shot of the crowd pans around the Kemper Arena before finally resting on the broadcast team.]

DT: Ladies and gentlemen, welcome to Kemper Arena in Kansas City, Missouri and Empire Pro Wrestling's Aggression 31!! We are live and about to get things underway! With me as always are the one and only Mike Neely and of course, Dean Matthews…and guys, what a packed show we've got tonight in our final Aggression before the newly named EPW-NEW Wrestlestock!! And folks, if you haven't heard – the word came down today that Wrestlestock will be a two day event featuring the best of both brands, and what a weekend THAT'S gonna be!

DM: It's really unprecedented in these parts, Dave to have this sort of cooperation between companies. Everyone always wants to see this sort of thing but it rarely happens. I applaud the owners of both companies for putting this together.

DT: Tonight of course we have several huge matches. Two big King of the Cage matches to determine who will face off for the right to challenge the World Champion, as well as a big three way dance between Beast, Anarky and James Irish.

DM: James Irish is a man out of place in that match tonight, but it's gonna be interesting how it all plays out as he has no love for either man in that situation.

[As the announcers pause for a moment, suddenly "Zero" by The Smashing Pumpkins blasts over the speakers. Dan Ryan emerges on the stage alongside Anarky. The men stand there for a moment, Ryan peering into the crowd and Anarky looking ready to kill someone (which is pretty much how he always looks). They stroll to the ring and climb in, Ryan with a microphone and Anarky standing a few feet away.]

DT: The owners are here!

MN: Ahem…co-owner…and Ryan isn't anything anymore.

DM: He will be getting the company back, ya know Mike. You might keep that in mind when you talk.

MN: Well by that I meant he's my favorite person ever.

DM: Sure.

Ryan: So, here we are in Kansas City…[cheap pop]…with a week to go before the big join show with NEW. Tonight, there is a matter to clear up. Last week, Beast…apparently under the orders of our…owner…[Ryan looks like he smelled a fart as he says this]….thought it wise to handle a no-show by the World Tag Team Champions…The Cameron Cruise Project…by removing their titles and handing them to Blitz.

Now, while I appreciate the irony of Joey Melton having a title taken from him without losing a match…since he was the benefactor of a similar situation in regards to me…I am a man who believes in championships being won in the ring, and I don't have any intention of allowing Irishred, Beast or anyone else devalue a championship that has been built up as among the most prestigious in the world where tag team wrestling is concerned.

So…..[Ryan pulls out a piece of paper, which looks scrawled across, messily]…what I have here is an order signed by the Empire Pro Wrestling Chairman…my good friend Anarky here…returning the EPW World Tag Team Championships to The Cameron Cruise Project effective immediately….

[Loud crowd pop]

DT: Wow!!

MN: They're giving 'em back?? Melton is champ again? Hallelujah!!

DM: Get up off your knees, Neely for cryin' out loud….

Ryan: Therefore, I'm sorry to announce that there will be no tag team title match tonight. Now…for the Proletariat, I realize this leaves you in a pickle. However, I will give you this incentive…win tonight and it will be the two of you taking on The Cameron Cruise Project on one of the biggest shows of the year….WrestleSTOCK.

In addition, tonight's main event will be a preview of one of our TWO WrestleSTOCK main events as I am happy to announce right here and now that your Chairman…Anarky…will face Beast at WrestleSTOCK…..in a STREET FIGHT!!

[The crowd "OOOOH"s at the announcement]

DM: Whoa! Letting loose Anarky in a street fight?? Damn.

MN: [in sing-song] Loa-fy's go-nna di-ieee!!!

DT: Shh!

Now then…ladies…gentlemen….enjoy the show….

["Zero" kicks back up as they leave the ring and walk up the ramp and through the curtain.]
---
Unholy Father vs. Steve Solex vs. Tina Davis vs. Rex Reynolds

DT: What an announcement by Dan Ryan! The Cameron Cruise Project are champions once again! And we're gonna have a street fight at WrestleSTOCK!

DM: I'm not sure the Project deserve the belts back after disappearing last week, but hey…that man's the boss, even when he's not…the boss…so to speak. And as for the street fight announcement….just wow. I can't say anymore about that.

MN: Blah blah blah…..are we gonna have any matches on this show or what?

DT: Well lets see ........ It says here we have a match between four newcomers to EPW.

MN: Oh great this should be a yawner!

DM: Not necessarily Mike. Not only is the Father of All UnHoly about to have his first match in almost 4 years, but the other three wrestlers are not too shabby. I know for a fact this Tina Davis is quite a technical wrestler.

DT: You got that right Dean. Also Steve Solex and "the Future" Rex Reynolds will make this match quite a spectacle this evening. I doubt very much that this will be a yawner!

MN: [Rolling his eyes] We'll see......

DT: Well, all four are in the ring already….

MN: That's what they get for being new and for none of us giving a damn.

DM: Look at the look of focus on young Rex Reynolds face. He really looks prepared for this match!

MN: I think Tina Davis better watch out! The Father is giving her the evil eye!

[DDDiiinnngggg!]

DT: And there is the bell, you're right Mike! The Father charges right into the corner of Tina Davis. Hammering her with a forearm shiver to the head!

MN: That hurt you Dave, didn't it?

DT: What?

MN: To say I was right!

DM: Rex Reynolds charges and locks up with Steve Solex, Solex reverses, grabs Reynolds from behind and executes a flawless german-suplex!

DT: Reynolds landed right on the back of his head and looks dazed already. The Father of All UnHoly is picking up Miss Davis by her hair, dragging her to her feet. The UnHoly One looks to the crowd for approval...... Ouch! Tina Davis delivers a low blow! The Father is down rolling in agony!

MN: That Minx is quite tricky!

DT: Now Davis is going to work on the right knee of the Father. Hammering away!!! two.... three... four... five consecutive kicks! The Father scrambles to the corner with his hands up, looking up at Davis!

DM: Here comes Solex!

DT: Solex grabs Davis by the hair! Reverse DDT!!! Solex going for a quick pin! But the Father scrambles to his feet and knocks Solex off! Rex Reynolds is now back to his feet and looking towards the Father and back to Solex! The three men all trying to guess the others next move.... The Father moves first and drops an elbow on the helpless Tina Davis laying to the leftside of the ring.

MN: In true UnHoly One fashion, attacking the weak or helpless. I love his tactics!!

DM: He's a coward.... no wonder you relate to him.

DT: Rex and Solex are squaring off to lock-up. Solex lands a solid left to the side of Reynolds face. Emilio Gomez steps in to warn Solex about a closed fist!!

DM: The Father again taking advantage of the confusion and he grabs Rex Reynolds! Dragging the dazed man to his feet the Father goes for the body slam, and drops Rex Reynolds head first across the top rope!!! Gomez didn't see it! He's still warning Solex.

MN: You were right Thomas, this isn't putting me to sleep!

DT: The Father wasting no time, with two wrestlers down and momentarily dazed, he turns to Solex. Solex smirks and waves the Father to come at him!!! What showmanship! The Father charges and Solex brings up a big boot to the face of the UnHoly One!

DM: Thats gonna leave a mark!

DT: Solex now walking over to Reynolds who is still having trouble breathing, I think. Picks him up..... Choke-Slam!!

[ The crowd in the arena are now at their feet sensing a possible end is near.]

DT: Solex is dragging Reynolds up to his feet! Is this it? Is he gonna end it here.... he's looking to the crowd!

DM: Watch-out!!! Solex doesn't see the Father of All UnHoly is to his feet!!!

DT: The Father runs towards Solex! OH MY GOD! He just took out the right knee of Solex with a shoulder block! That could be a career-ender!!! Solex is writhing in pain. Clutching that knee as if it's seriously injured! The Father now looking towards Rex who is just starting to get his wits about him..... the two men look at each other and then look to Davis who is now making her way to her feet....... they both move towards Davis, cornering her. The Father and Rex meet hands and charge Davis going for a clothesline! Davis ducks both men, she turns and that roundhouse kick landed right on Reynolds chin.

MN: He went down like a ton of bricks!

DM: Davis follows thru and lands another kick to the Fathers head! Both men are down!!

DT: Solex is still down in the far side of the ring. Emilio Gomez is checking on him.

MN: He needs to be doing his job and watching the action! Not checking on the weak, to see if they are ok!

DT: Gomez is well aware of his job! He's a veteran official! Davis walks over to Solex, she see's he is hurt badly! She turns back towards Rex and the UnHoly One. Davis grabs the Father and drags him up! Davis moves behind the Father.... Sleeper!! This could be it! The Father is flailing wildly trying to get to the ropes! Davis jumps on his back to try to stop him!

MN: Mistake!

DT: The Father falls backwards hard his head slamming into Davis's face! She rolls into a prone position holding her hands over her face! She's bleeding..... the Father must have broken her nose! Reynolds is now to his feet... trying to take advantage of the Father being a bit disoriented himself, he moves in behind the Father. The Father sees him and unloads a big elbow to Rex's face. The Father now with the momentum grabs Rex spins him around Death Valley Driver!!!!

MN: Thats it! Noone gets up from that!

DT: The Father must not be satisfied, he is pulling Reynolds back to his feet..... The Father motions to the crowd!!! Here it comes!!!! The Nail in the Coffin! The Nail in the Coffin!

MN: Ouch, now I know Reynolds is all done!

DT: The Father is going for the pin..... 1....... 2...........3!!!! This match is over!!

[ The crowd cheers and begins to chant Father! Father! Father!]

DT: What a great match! All four newcomers really gave the EPW fans something to cheer about! And something to look forward to in the future! Remember that was the first match for all four competitors!

DM: I really thought Tina Davis had it after she landed those 2 devestating kicks!

MN: Well Thomas maybe we will see from 3 of the 4 wrestlers. I don't think Solex will be wrestling in the near future. That knee injury looked bad.

DT: What do you know? He's a tough kid that Steve Solex. Besides how do you know it's not just a sprain? Since when do we listen to anything you say anyway? Look he's up and walking around..... that shows what you know......

MN: Yeah..... he looks real comfortable leaning on the ropes like that....................

DT: Enough from you....folks, we'll be right back!
---
NEXT