(FADEIN: A loud engine revved and purred making it's way down the street as the doors of the Key Arena were held open, by two men in matching, black and white tuxedos.

Screeching around the corner were four twenty-four inch black on black rims, beneath a black Batmobile-esque Spada Codatronca TS, signifying the entrance of only one man – EPW World Heavyweight Champion, SEAN "TRIPLE X" STEVENS.

Professional wrestling's undisputed KING pulled his designer car in front of the building, and exited, tossing his keys to valet, as he entered the arena in a "Gucci" sweatsuit, with matching brown "Gucci" lenses with gold trim around the frame. His mid-length golden locks were braided back into a pony-tail, and he had a five o'clock shadow. On his shoulder, was the glistening, glowing, extravagant, diamond encrusted most prestigious championship in the game.

Yes, ladies and gentlemen, Triple X drives his vehicle with the EPW World Championship draped over his shoulder. And, if you had a federation full of bloodsucking vultures after your most prized possession, you would too.

Trip entered the building, bypassing all of media, photographers, and paparazzi, desperately seeking his attention. He continued on in the direction, of what one would think was his dressing room, when something … no, someone … caused him to stop in his tracks.

Adjusting his sunglasses to fit atop his head, the "blue-eyed badass" approached…

…The First, in an "Outcast Hero" wife-beater, black gi pants, black ring boots, with his face painted like Prince Nuada. His right hand was taped halfway up to his elbow with the letters "OWG" written on the in black marker and his glare was equally as intense as the EPW Champion's stare. The two foes approached each other, and stood face-to-face, nose-to-nose, man-to-man, intensity in their eyes, and anger in their hearts, both seemingly on the verge of exploding…

…that is, until Stevens cracked an arrogant smile, easing the tension, atleast on his end.

First, seeing the bigger picture, opted to walk away, instead of smacking the grin off of the champion's face, like he wanted to do. However…

…when The First attempted to step around Stevens, the champion also stepped, staying in the First's path, as his smile grew wider. The First attempted to step around Triple X once more … and, once more, the "blue-eyed badass" cut him off, and if it were at all possible, his **** eating grin now extended from ear-to-ear, as he gently removed the EPW title from his shoulder and forced it into the face of The First, as he lips parted.)

TRIPLE X (In a mocking tone): "I'm going to keep getting up! It's MY time! You can't beat me, Trip! You're scared of me! There's NOTHING that you can do to beat me, because I will not lose!"

The flamboyant superstar cleared his throat, before continuing, in his normal voice.

TRIPLE X: And, STILL Empire Pro Wrestling Heavyweight Champion of the WOOOOORRRRRRLLLLLLDDDDDD!…………….

"…………….. ME!

"And you know what, Brian? I heard you talking this week about being the only person to survive me, with your career in tact, and I just think that it's only right that you know that everybody whose ass I've kicked said the exact same thing that you did after it was over. It's valiant that you're still fighting, but … you'll soon self destruct, too. And, while beating you has become my favorite hobby, and I'd love to say I'll be seeing you next week … I'll be honest? I'd be very surprised. So here's my gift to you, little boy.

(The EPW title belt was already an inch away from the face of the challenger… however, Triple X shoved it further in his face.)

TRIPLE X: Here's an up close and personal view of the EPW World Heavyweight Championship. It's beautiful, isn't it? Enjoy it, smell it, bask in its glow … because, Brian … no pun intended … but, this is the "first" and last time you'll ever be this close to it again."

(The champion laughed, mightily.)

FIRST: Yeah. It's real nice, Trip. But - keep an eye on the ring out there tonight, because when I'm done with the 'Cat? It's you and me again… and this time... in the cage... there'll be no escape.

(And, instantly, the smile disappeared, as both competitors stared at the other until the camera faded out.)
---
["Imperial March" reverberates throughout the arena and a video package flies by on the screen.

Lindsay Troy unmasking as Dis, holding the EPW World Title up for all to see.
JA hitting the Karelin Driver on Rocko Daymon.
Cameron Cruise hitting Fusenshoff with the Shipwreck.
Felix Red and First, perched on opposite turnbuckles, then diving down onto their opponents.
Fusenshoff, clotheslining Stalker over the top rope.
Larry Tact and Jared Wells stalking to the ring with the EPW World Tag Team Titles around their waists.
"Triple X" Sean Stevens standing victorious on top of a cage, face bloodied, holding the EPW World title up high.
And finally…. A dais with a throne upon it and Lindsay Troy sitting front and center, leaning back and staring right into the camera.

Then…

BOOM!!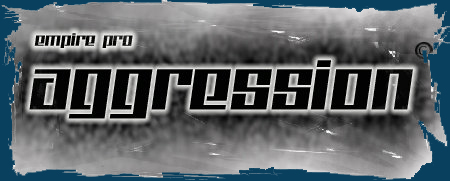 The stage is illuminated by a veritable bonanza of booming pyrotechnics as the camera pans over the crowd, cuts to the ring from a wide angle, then concludes its journey with a smash cut to the broadcast team.]

[FADEIN: A wide shot of the crowd as pyro goes off, the camera pans over the crowd for a few moments before we CUTTO: The broadcast team sitting at the table at ringside.)

DT: Welcome everyone, Aggression 52 is live and we're bringing you the opening round of the King of the Cage tournament!

DM: Yes, off the shocking events at Black Dawn, the return of Lindsay Troy to the active roster, now Dan Ryan has launched a league wide tournament that will assuredly crown the new King of the Cage and will most likely determine who is the EPW World Champion…

MN: I've contacted the ACLU, I've called all those personal injury lawyers I see on TV, I need somebody, anybody to file suit against EPW for the CRIME they are committing…Sean Stevens beat THREE MEN at Black Dawn, and did so in DOMINATING fashion, and his reward is to be thrown into a series of steel cage matches defending his World Title?! This is unthinkable…I can't even conceive of such madness! And don't even get me started on these rigged brackets!

DT: Well I think I just might, since tonight's main event features "Triple X" Sean Stevens long time nemesis, as The First battles Copycat for the right to advance and face Sean Stevens next week, both to continue on in this tournament, but also for Stevens World Title…

DM: The First has come so close on so many times and you know he's chomping at the bit to beat Copycat and get himself another crack at that title that keeps eluding him.

MN: The only good out of all of this is that for all of EPW management's plotting, all their scheming, they never counted on such a highly motivated, highly energized Copycat…The Elliot Ness of EPW, the man who sees the corruption, the rot in EPW, will destroy the dreams of the brass and all the little gothtards fans when he crushes The First like a bug and then we'll have two honorable, two noble men fighting for the EPW World Title!

DT: We also have the EPW World Television Title to be decided, the new champion, "The Dragon" Karl Brown enters the King of the Cage seeking even bigger glory, but has to defend that title against the maniac that is Anarky.
DM: Anarky's never an easy match-up for anyone, Karl Brown may be coming off a big win having finally pulled that belt off Layne Winters…But he's got his work cut out for him tonight.

DT: All that and 4 more first round matches in the King of the Cage tournament…It's going to be an action packed night fans!
---
King of the Cage: Round 1
Cameron Cruise vs. Fusenshoff

[Bell rings, after a moment "Wherever I May Roam" by Metallica hits and Fuseshoff comes through the curtain, looking deadly serious as he makes his way towards the ring, the crowd giving Fuse a good pop as he heads to the cage.]
TF: The following contest is an FIRST ROUND MATCH in the KING OF THE CAGE TOURNAMENT! Introducing first…Hailing from Kamloops, British Columbia…Weighing in at 263 pounds…FUSENSHOFF!!
[Fuse steps through the door of the cage that has a rather prominent display of the words "Zane Inc." on the door.]

DT: A quick shout out to our sponcer, William Zane Metals LLC

MN: Ah, EPW, tweeking the internet since 2004!

[MUSIC UP: "Killing In The Name Of" by Rage Against The Machine, the crowd gives Cameron Cruise a loud ovation as he heads towards the ring.]

TF: And his opponent…From Jacksonville, North Carolina…Weighing in at 263 pounds…CAMERON…CRUISE!!

[Crowd gives another pop for Cruise as he enters the ring, staring down Fuse, the cage door slams shut and the two men wait for the bell, which rings a couple seconds later.]

DT: And the King of the Cage is underway, Fusenshoff Vs Cameron Cruise, the winner of this match to face the winner of the High Flyer/Stalker match later tonight…The two men lock up…Fuse backing Cruise into the corner…Buries a forearm into his chest and now drives a series of knees to the midsection…No disqualification in any of tonight's matches, ref is only in the ring to count a fall, acknowledge a submission, or see a man's feet hit the floor after escaping the cage. Fuse sends Cruise hard into the other corner and BLASTS him with a clothesline as he staggers out!

DM: Fuse showing no ill effects from that loss to Anarky, coming out here guns blazing and putting a beating on Cruise.

MN: Between the drunken idiot and the Anthology reject I have a tough time picking a side, so I guess I'm just rooting for injuries and carnage…Amuse me you two!

DT: Fuse pulls Cruise back to his feet…EXPLODER SUPLEX! HE JUST DUMPED CRUISE ON HIS HEAD! FUSE WITH THE COVER!

ONE!

TWO!

NO!!

DT: Cruise kicks out…Fuse grabs him and SMASHES Cruise's head into the cage…Cruise flops to the ground and now Fuse calling for the door to be opened…Fuse makes a break for it…CRUISE TACKLES HIM! Fuse and Cruise now fighting on the apron trying to escape the cage…

DM: This is the danger of trying to escape via the door, it puts your opponent close to victory also if they prevent your escape.

MN: Yeah, so don't try to win guys, just beat each other to a pulp!

DT: Cruise now dragging Fuse away from the gate and the refs shut it...Fuse trying to get to his feet and he takes a series of punches from Cruise who now SMASHES Fuse into the cage…Fuse staggers and gets BULLDOGGED into the mat! Cruise with a cover!

ONE!

TWO!

NO!

DT: Fuse gets the shoulder up at 2…Cruise DRIVES a knee into the face of Fuse and now locks in a rear chinlock…Cruise trying to grind away on Fusenshoff…

DM: In one of those oddities that you just can't make up, both these men are listed at 263 pounds, so well, there won't be any talk of a weight advantage in this contest.

MN: You're just full of insights Matthews, no wonder they pay you the big money…

DT: Fuse gets to his feet…BACK SUPLEX ON CRUISE! Both men get to their feet, Cruise a bit slower and he gets popped with a series of right hands and INTO THE CAGE AGAIN goes Cruise…Who staggers and gets picked up and POWER SLAMMED, Fuse into the cover!

ONE!

TWO!

THR—NO!

DT: Cruise just escaping that pin…Fuse stomping away on Cruise…And now Fuse climbing the cage…He's trying to escape! Cruise in a daze as he gets to his feet, Fuse already on the top rope…CRUISE PULLS FUSE'S LEGS OUT FROM UNDER HIM! FUSE HITS THE TURNBUCKLE FACE FIRST!! Fuse is on dream street…GETS NAILED WITH A REALITY CHECK!!! CRUISE HAS IT!!

DM: But he's too stunned to make a cover…Fuse is out of it…Cruise now trying to shake out the cobwebs…Cruise crawling, drapes an arm over Fuse's chest!

ONE!!

TWO!!!

THR—NO!!!!

DT: FUSE KICKS OUT! Cruise can't believe it! This crowd is buzzing…Cruise is stunned…He grabs Fuse and INTO THE STEEL GOES FUSE! Cruise now grinding Fuse's face into the metal…Fuse fires off some back elbows, staggering Cruise…CRUISE INTO THE CAGE NOW!

DM: These two men have certainly not been shy about using the cage as a weapon…The cage always adds an element of brutality to these matches.

DT: Fuse now choking Cruise over the top rope…Fuse lets go and he's going to the corner and he's trying to climb out of the cage…Cruise staggering over to Fuse grabbing at his legs…Fuse kicks Cruise away from him….Fuse now has himself nearly over the top of the cage..Cruise climbs the ropes, he's got Fuse by one leg and is hanging on for dear life…Fuse coming back inside the cage now both men up on top trading punches, this is always a dangerous spot to be in...THEY BOTH FALL AND CROTCH THEMSELVES ON THE TOP ROPE! [Crowd groans!]

MN: Ohhh…That had to hurt…

DT: Both men crumple to the mat…No ten count here from the ref, cause we have to have a winner here.

MN: Says you, I'm sure High Flyer and Stalker wouldn't mind knowing they have a bye waiting for them if they win their match, I say count away ref!

DT: Well that's not happening Neely…Cruise back to his feet, waiting on Fuse, he's measuring him…SWINGING NECKBREAKER!! Cruise caught all of that! A cover!

ONE!!

TWO!!!

THR—NO!!!

DT: Cruise wastes no time and all and quickly hooks up an STF…He's got that Cruise Control submission sunk in on Fusenshoff…

DM: And there's no disqualifications, Fuse can't get to the ropes for a break, he's going to have to fight his way out of this hold!

DT: Fuse thrashing in agony…He's stuck in the middle of the ring, Cruise wrenching back on his chin…He's in really bad shape here…Fusenshoff…Is he going to tap!? NO!! He's pushing up, trying to bridge out of the hold…

DM: Fusenshoff needs to get one of his hands in between Cruise's and break that finger lock that Cruise has under his chin…

DT: Or he can drive a thumb into Cruise's eye, which is what he just did and he's broken the hold…Cruise complaining to the ref, who just shrugs his shoulders at Cruise…Cruise now grabs Fusenshoff…IMPALER DDT!! Fuse is laid out…Cruise looks at him and thinks about a cover, but now he's climbing the ropes, he's going to escape the cage!

MN: Fuse isn't moving, this is a great plan by Cruise…Get out while the getting is good!

DT: Cruise now up to the top rope Fuse starting to stir…Cruise on top of the cage, Fuse quickly climbing the ropes…Cruise has his legs over…FUSE GRABS CRUISE'S ARMS! Cruise hanging from the cage!

MN: Drop him! Let him win with two broken legs!

DT: Cruise being pulled back…Both men on top of the cage…They trade punches…OH MY GOODNESS!! FUSE JUST HIPTOSSED CRUISE OFF THE TOP OF THE CAGE TO THE RING!! CRUISE SPLATTERED ON THE CANVAS!!! Fuse has a clear chance to escape the cage now…Wait…What's he doing?!

DM: He can not be seriously thinking about this…

DT: FUSE JUMPED OFF THE TOP OF THE CAGE!!!! HE JUST SPLASHED CRUISE!!! THIS IS INSANE…FUSE HAS A COVER!!!!

ONE!!!

TWO!!!

THREE!!!

[Bell rings, MUSIC UP: "Wherever I May Roam" by Metallica" Crowd flipping out "Holy Sh*t!" chants]
TF: Your winner and advancing to the second round of the King of the Cage tournament…FUSE!!! ENNNN!!! SHOFF!!!!

DT: What a huge win for Fusenshoff, who's still laying in the ring…That was one of the most INSANE things I've ever seen in my life..

MN: And fatal, hell he most likely killed Cruise with that move! They'll need a spatula to scrape him off the canvas!

DT: Fusenshoff punches his ticket to the round of 8, we'll find out who he fights later tonight, more King of the Cage when we return!
---
NEXT