Joined

Jan 1, 2000
Messages

364
Points

0
Age

42
Location
LVW/7-10 Commercial
(Camera opens up to a Walter Ray Williams Jr look-alike at the ball return awaiting his shot. Meanwhile 7-10 Hudgins is sitting indian style in his seat oddly with his right arm in the air as he is waving his fingers back and fourth in slow motion)
(PBA ANNOUNCERS - Chris Schenkel & Nelson Burton Jr)
CHRIS SCHENKEL:
Yes we are here in the Pavilion at Manhattan Beach and your looking at Walter Ray Williams Jr and he is up now in the tenth frame.
NELSON BURTON JR:
Needs two strikes to win the match.
(The fake Walter Ray Williams Jr grabs his ball, assumes the position and goes for his shot. All of the sudden 7-10 Hudgins jumps up out of his seat, sprints over to the fake Walter Ray and tackles him midway on his approach. Ball flies out of the camera shot as both men land one lane over)
CROWD:
OOOOOHHHHHHHHHHHHHHHHHHHH!!!!
(Image appears on TV screen)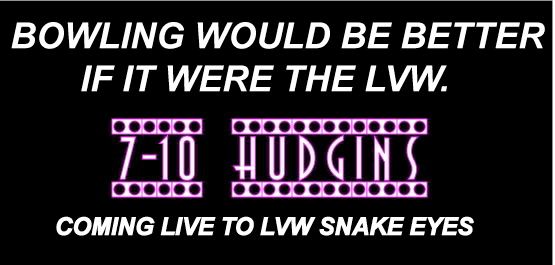 NELSON BURTON JR:
Well, he has to be disappointed. Did not throw a good shot and ultimately ends up with a very difficult spare.
CHRIS SCHENKEL:
Can you imagine that?
(Camera opens back to LIVE action with 7-10 Hudgins getting up and pointing to the crowd)
7-10 HUDGINS:
HOW ABOUT THAT HUUUUUH? WANT SOME OF THAT? COME TRY SOME!!!!
(FADEOUT)